2:27 am
[boxtrot]

It's been like 2 years since I last posted on this community. lol
Anyways I think I have gotten a little bit better.
I go through CCG making phases and this design card is from my current one. I didn't want to make it complicated in design but still sharp and edgy. This design was inspired by the "Future Sight" Cards from Mt:G. The opacity around the image area is about 60 percent so that the image I use doesn't get bother too much by the cards design, plus it looks kind of cooler with that translucent effect.
6:16 pm
[boxtrot]

Hi there
Hi there, I am
boxtrot
I started playing the YGO TCG competitively for about 2 years now and a half now, but actually got more into it as of this last couple of months. I been playing since IOC...so I'm not that old skool. lol I still love casual adv. play with friends.
I would like to post a card I made for the Yu gi Oh! TCG. I got bored about a month ago. I screw up a little on it. The picture I drew and photoshop it a little, but here it is: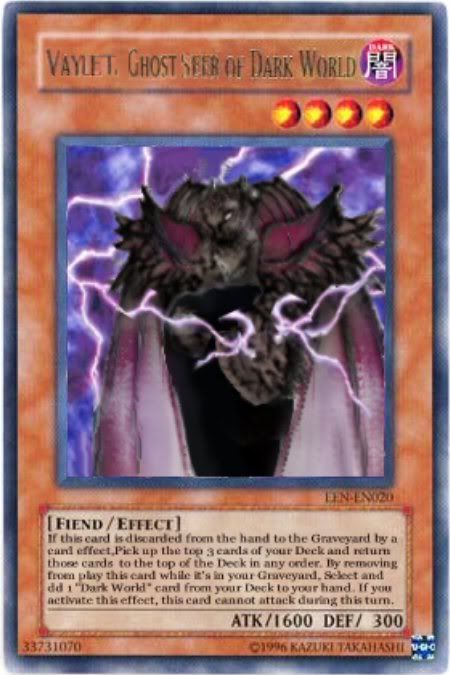 The ending part doesn't make since, thought. It should be, "player cannot attack during this turn" instead of "this card."
The effect is kind of an oxymoron because you either choose to "stack" your deck or search& shuffle which screws up the "stack."
9:10 pm
[jeremasaur]

Group Dynamics CCG
#010 - Twinkie Cake
Originally uploaded by
jeremasaur.
Hi there. I'm Jeremy. Past few years I've been making a just for fun card game in a universal game system I made based off of some card games that I enjoy plus some original bits to make it universal.
I just found this group while searching for an LJ community that might make the Babylon 5 CCG as a topic. Alas no luck there, but still I found this so that's a good thing.
This is my latest card. Like I said it's a just for fun game and really doesn't have a purpose or anything but it's fun and I figured I'd share with people who also enjoy making CCGs.
I have a few galleries up for some of the cards I've made over the years. Feel free to take a look:
2007:
http://www.flickr.com/photos/jeremasaur/sets/72157594459754959/
2006 v3:
http://www.flickr.com/photos/jeremasaur/sets/72157594322512887/
2006 v2:
http://www.flickr.com/photos/jeremasaur/sets/72057594134789947/
2006:
http://www.flickr.com/photos/jeremasaur/sets/72057594053124310/
2005:
http://www.flickr.com/photos/jeremasaur/sets/1336353/
Hope everyone is having a great weekend!
11:05 am
[arcanom]

The Paranormals: Arcanom
Well I've just finished producing my first professional online CCG, available here:
We'd originally hoped to wrap up the main design phase last March but the project dragged on a lot longer. Fortunately the game itself had been designed for tabletop play first and the problems developed during the programming, which wasn't too unexpected. We've been updating the card art and tweaking some of the controls, especially the deck editor, but aside from that it seems pretty stable.
If anyone's interested in taking a look I'd love some feedback on the game.
4:08 am
[mole12a]

Hello people
Hello my name is Moley, I'm the person who set up this community. Feel free to post up things.
I created this community to get some help with the design of a CCG I've been creating for my university's Animation and Comics Society and I'll be posting details about it in other posts.
I hope you enjoy your stay here and please can we not have any bickering about which CCG is the best and so on. Thanks.